A SONG FOR LOST ANGELS (2nd Edition)
How Daddy and Papa Fought to Save Their Family
by KEVIN FISHER-PAULSON
Publisher: Two Penny Press • 222 pages, paperback • ISBN 978-0996868303
The first edition of this acclaimed memoir earned three Finalist nominations in independent publishing competitions during 2015. The Second Edition is updated, with a new selection of photographs. "Engaging and witty... heartwarming insights into the psyche of a man who yearns to be a father." - Janet Mason, Huffington Post • "Sometimes heart-wrenching, sometimes humorous, this memoir of building a family will inspire social change." - Heather Weber, ForeWord Reviews
______________________________________
MY LEASH ON LIFE
Foxy's View of the World From A Foot Off the Ground
by LENORE HIRSCH
Publisher: Laughing Oak • 150 pages, paperback • ISBN 978-0615872650
There's more than meets the pointed ears in this clearly written, deceptively simple collection of reports from a doggie's ground-level point of view — including some wry observations on human behavior and the transitions of grief and mourning. — D. Patrick Miller
______________________________________
OUR TIMELESS YEAR
Miracles of Love Lighten the Clouds of Dementia
by BEVERLY HAMILTON
Publisher: Cogent Publishing • 164 pages, paperback • ISBN 978-0925776181
"This book is a love story that will go to the center of everyone's heart... written with amazing honesty, transparency, authenticity covering the highs and lows of Beverly's journey with her husband, Ulf, who was suffering from dementia. Bev interlaces her book with several quotes from "A Course in Miracles" which proved to be so helpful during their traveling together, with peace of God and continuing to focus on living in the present, being their common goal."— Jerry Jampolsky, M.D.

TO HEAVEN AND BACK
A Reporter's Journey in Two Worlds
by JEAN POPE PhD
Publisher: Author • ISBN 978-1511584791
A spiritual tour de force... As a recovering reporter myself, I especially appreciate Jean Pope's honesty and clarity in recalling an extraodinary set of adventures in real and unreal worlds. — D. Patrick Miller
_______________________________________
TO FLY AGAIN
Portrait of a Bipolar Life
by RACHEL HASNAS, LCSW
Helm Publishing • ISBN 978-0-9850488-0-8
A loving and informative record of a mother's love for her son, whose life tragically fell prey to severe bipolar disorder. An affecting inclusion is the poetry of Joshua Hasnas, revealing his inner states of mind, and the author includes a substantial Appendix of useful information for those dealing with bipolar disorder. — D. Patrick Miller
_______________________________________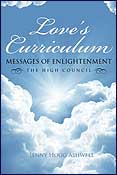 LOVE'S CURRICULUM
Messages of Enlightenment • The High Council
by JENNY HOGG ASHWELL
Publisher: Balboa Press • 218 pages, paperback • ISBN 978-1504339889

"[E]very page in this book sparks not only my curiosity, but something in my heart that goes YEAH! THATS IT!!! . . . . If you in any way, feel called to A Course In Miracles or to finding your greatest truth, read this book." — Marion Baker, RTC, author of The Lime Green Plastic Covered Couch; Insight for Women Who Struggle To Find Lasting Love
_______________________________________

GAINING TRACTION:
Starting Over After the Death
of Your Partner
by VICKI PANAGOTACOS PhD FT
Publisher: Author • 170 pages, paperback • ISBN 978-0991580507

Vicki Panagotacos clearly understands the challenges a person faces when dealing with one's grief and brings a wealth of knowledge and compassion to this book. — Dwight Wilson, CEO, Mission Hospice, San Mateo CA
_______________________________________

MIRACLE MINDFULNESS
A Guide to A Course in Miracles Workbook for Students, Lessons 1-220
by HOLLY E. FOX
E-book only • Publisher: Author
...a tour de force of the Workbook of the Course.... offers great insight into the meaning of the lessons. I highly recommend this book to all miracle minded people, or those who would like to be." — Gary Renard, author of THE DISAPPEARANCE OF THE UNIVERSE Trilogy
_______________________________________

LUCIFER'S GAME
You're Playing It, Whether You Know It or Not
Book One: The Realm of Shadows
by WILL SCHNEIDER
Publisher: Over and Above Creative

If you had a day to debate the Devil, would YOU win? "A complex yet deftly crafted novel...compelling from beginning to end; clearly establishes author Will Schneider as a major literary talent. Unique, thoughtful and thought-provoking, Very highly recommended for reading lists, community and library collections." -- Michael Dunford, Midwest Book Review
_______________________________________
DON'T FEED THE NATIVES!
Fear and Loathing in the Dominican Republic
Meets Zen and the Art of Riding Lawnmower Maintenance
by FRANK GENAO
Publisher: Author • E-book only

The newest e-book in the series by Frank Genao is like taking a Caribbean vacation in the company of a love-drunk, witty, sweetheart of a drifter on a mission... the kind of guy who knows how to enjoy life and get as high as he can get without physically leaving the universe. — Sari Friedman
_______________________________________

MY MIND BOOK
by FIONA MARIA WILLIAMS • illustrated by DAVID WILLIAMS
Call to Mind Books • 46 pages • ISBN 978-0995041509
Inspired by the wisdom of A Course in Miracles, this book gives children a friendly introduction to the laws which govern their minds, using clear and relatable examples."Fiona Williams answers the question that was left unanswered for a century or more, 'Why do I not feel good and what can I do to stop this feeling?' And she answers it right. You can't NOT buy this book for your children, it will help them and you!" - Joaquin Gossen, Age 9
THROUGH FAITH AND GRACE
The Adventures of the Course Kids
by BARBARA FRANCO ADAMS • illustrated by Animatus Studio
of Course Publishing • 62 pages • ISBN 978-0692330753
Through the most unsuspecting teachers at the homeless shelter, Grace experiences the miracle, the shift from fear to love. Based on teachings from A Course in Miracles, this delightful book is for kids and their parents. ALSO: The song "See With Your Heart," written and performed by Barbara Franco Adams, is available as a download at cdbaby.com.