Wisdom Resources Index • Study-at-Home Classes • Books


WISDOM RESOURCES PRESENTS

A Course in Letting Go:
The Forgiveness Intensive
with D. Patrick Miller
Start this online course anytime and enjoy six weeks of coaching,
insights, and inspiration from a leading teacher of forgiveness.
____________________________
"During the biggest crisis in my life, I took Patrick's first Forgiveness Intensive and have been a client ever since, for a year now. Every e-mail correspondence and phone consultation was tailor-made just for me and my situation. His skillful responses helped me see another way and shift my perceptions. I didn't realize how stuck I was in my thinking and I am really truly grateful for his insight." — SYLVIA RYKER, St. Louis MO

________________________________


"D. Patrick Miller makes an advanced form of forgiveness very approachable. Having known Patrick for many years, I can say he doesn't just write about these principles, he truly lives them..." • GARY RENARD, author of The Disappearance of the Universe and Love Has Forgotten No One

"This helped me go to a deeper level on my own path of forgiveness. It's a wonderful book!" • LOUISE HAY, founder of Hay House, author of You Can Heal Your Life

5.0 out of 5 stars
A Brilliant Classic
By Dan Shafer "bookaholic" (Monterey, CA) - "This book is, on re-reading, a real pillar of the psycho-spiritual genre. I first read it 15 or more years ago, early in my spiritual path as a student of Oneness. While I found its teachings intriguing, I didn't connect with them deeply. For whatever reason, when I recently decided to investigate the subject of forgiveness more closely, this 20th year edition jumped off the Amazon shelves. It is a very short book but that doesn't mean you should read it quickly. You might want to do so the first time, but if you're like me, it will call you back for deeper study and to at least attempt to begin to integrate its quite profound principles into your daily practice. This is, or at least can be, a life-changing book that borders on sacred literature."
Is there anything going on in your life that just wears you out? A thankless job, a chronic illness, a troubled relationship? Have you gone over and over this situation or circumstance without finding a solution or a way out? When a problem resists solving, it's often because we have unknowingly limited the range of possible solutions. That happens because we have looked at the problem in the same way for a long time.
Forgiveness begins with the willingness to look at any difficult circumstance of your life in a new way. Forgiveness is not about letting anyone off the hook for a mistake, insult, or crime. Nor is it about trying to forget something that bothers you. In fact, forgiveness may first require that you look more deeply at whatever is bothering you, because looking more deeply at something in particular will be the first step into seeing everything differently. And seeing everything differently is the way of forgiveness.
Wisdom Resources now offers the popular "Forgiveness Intensive" on an ongoing basis. Start anytime and receive the first of 3 exclusive mp3 recordings by D. Patrick Miller, author of THE FORGIVENESS BOOK, describing his "Seven Steps of Forgiveness." Over the following 6 weeks, you will receive two more recordings at your leisure, while having the opportunity to learn from up to 6 e-mail exchanges with Patrick, as well as one hour-long phone consultation.
This course includes: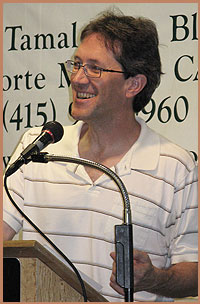 • An autographed copy of the new edition of THE FORGIVENESS BOOK when it becomes available in early 2017
• Three 20-minute mp3 audio recordings by Patrick, made available at your request, explaining the principles and practical effects of the Seven Steps of Forgiveness. This includes substantial new material not appearing in THE FORGIVENESS BOOK. Recordings include instructions for journaling and meditation on your forgiveness work.
• Up to six exchanges of e-mail correspondence with Patrick to ask questions and receive answers and suggestions about your individual forgiveness study.
• A one-hour phone or Skype conversation with Patrick, to be arranged anytime during the class period. Followup conversations will be available at a low hourly rate. (All correspondence and conversations will be kept in strict confidence).
Because this course is conducted online and by phone, it can be taken from anywhere and "assignments" are done at your leisure over a period of six weeks. This work is intense and rewarding, so the class allows plenty of time for your personal study as you begin your journey on "the way of forgiveness."
Start the course now by paying the fee below. We'll respond with additional class information, and provide access to the first recording. Write first to info@fearlessbooks.com to inquire about special arrangements for couples, families, or other groups.
Forgiveness Intensive:$159.00
"I love the personal and detailed responses you give to the emails. Your taking the time to reflect deeply before answering is greatly appreciated. Your gift as a teacher seems to be your ability to offer insights and ideas that actually invoke more questions to the student. This is a good thing. Possibilities are greater when the answers are not limited... And the chance to talk with you for a whole hour, with your rapt attention, is a gift of love we give ourselves." — LYNETTE ALLAIS

"Patrick's coaching has greatly enhanced my understanding of forgiveness principles and how to apply them in my everyday life. His authenticity in sharing from his personal experience has been tremendously useful in deepening insight into my own process. And his sense of humor is most appreciated — it helps me remember to laugh!" — MAIRE FARRINGTON

"Patrick is a gentle and compassionate teacher, with the ability to explain the mystical and reveal the metaphysical in a clear and concise manner.... He shares his knowledge in loving service to the world." — IYANLA VANZANT, host of Iyanla: Fix My Life on the Oprah Winfrey Network

SEE MORE STUDY-AT-HOME CLASSES FROM
WISDOM RESOURCES